Human rights represent one of the most important concepts in our modern era. This project contributed to raising public awareness and understanding of human rights and the phenomenon of discrimination, as well as to promoting work and achievements of human rights defenders. More than 4000 citizens visited the screenings within the IX edition of the FAST FORWARD Human Rights Film Festival and a special survey on the perception of discrimination among citizens from 17 municipalities was conducted. Besides, a film about human rights defenders and their achievements was produced and promoted on social media. Media were also encouraged to monitor and investigate cases of human rights violations and discrimination through the awards for 3 best research texts on human rights and discrimination.
Moreover, "360° Full Circle for Human Rights" project encouraged civic engagement in promoting respect of human rights and anti-discrimination in Montenegro. It helped strengthen capacities of local organizations in monitoring and evaluating the effectiveness and advocating for the improvement of policies and practices of competent institutions in the fight against discrimination and protection of human rights, which included successful completion of the training on the methodology of monitoring and creating reports on the state of human rights for 20 representatives of local organizations. Later on, they documented and analyzed the human rights situation in Montenegro and took part in the design and promotion of the "Human Rights Barometer", a report on the state of human rights in Montenegro with recommendations for relevant institutions.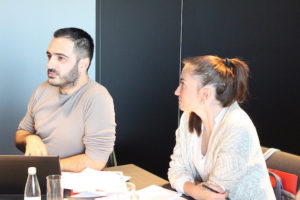 Within its 18 months long implementation period, this project promoted "education without discrimination" in the formal education system of Montenegro. It helped improve capacities of educators and support services in the prevention of discrimination in educational institutions and secondary schools. Furthermore, within this project a Red Line Service was developed as the telephone line to support young people facing human rights violations and discrimination in education. This was all followed with the conduct campaign on social media, aimed at promoting manuals and available support services for young people facing discrimination.