Why do flamingos turn pink? Why do pelicans come to Ulcinj Salina? Where do blackbirds go in winter? What does the blackcap look like? Over 150 primary school children from Nikšić, Kolašin and Cetinje recently found out the answers to these questions while visiting Ulicnj Salina and the Mareza habitat in Podgorica, where they enjoyed the time spent with birds.
Sixth graders from Nikšić's Mileva Lajović Lalatović Primary School visited Ulcinj Salina and learned about its numerous assets while walking around this nature reserve. They got an insight into Salina's history and learned lots of interesting facts about salt production in the past, with everyone taking a small lump as a souvenir. While exploring the Salina, the children also heard stories about the Zogaj mudflats lagoon and the many plant and animal species living in the area, including about Salicornia, a salt loving plant that grows in saltmarshes. By far the most exciting part of the trip was certainly birdwatching, during which the pupils were able to see pygmy cormorants, shorebirds and various species of herons for the first time. They particularly enjoyed watching flamingos, which you can read more about on our biodiversity website. At the very end of the visit, we organised a quiz where the pupils asked each other questions and displayed a wide knowledge of biodiversity.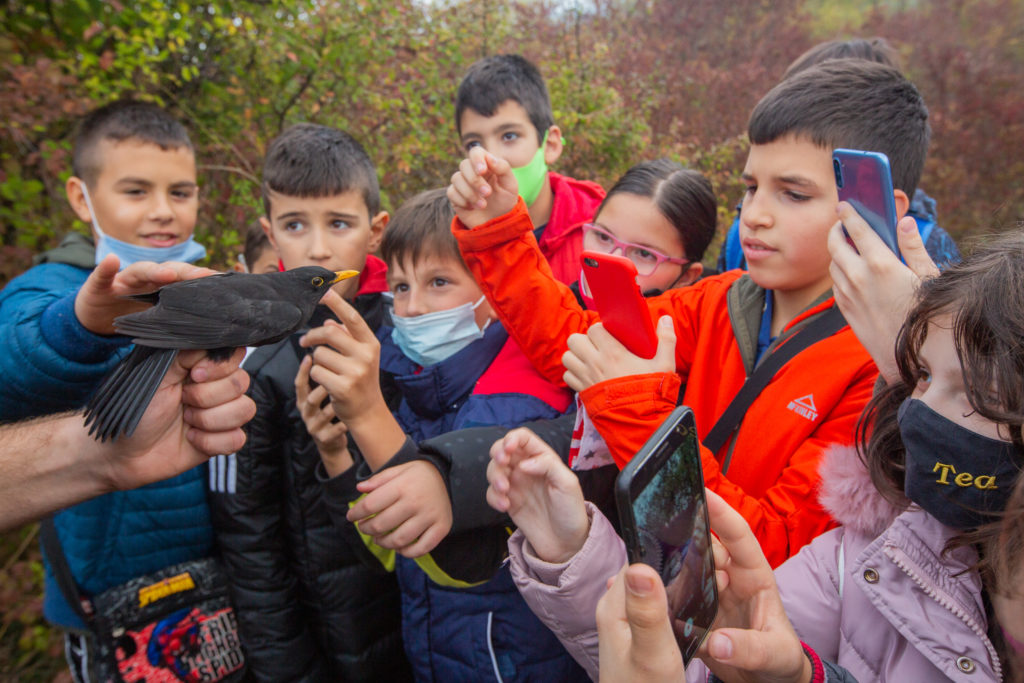 In another outdoor classroom activity, children attending Cetinje's Njegoš Primary School and Kolašin's Risto Manojlović Primary School joined a traditional autumn bird-ringing session in the Mareza habitat. They learned about ringing methods from an ornithologist of the Centre for the Protection and Research of Birds (CZIP), with each pupil having an opportunity to get to know some of the typical species that feed, rest and prepare for migration in the area of the Mareza river. With the help of ornithologists, the children carefully removed the birds from mist nets, after which they followed all the important steps of ringing – determining the sex, age, weight and wing length of the birds, assessing their condition and finally placing a uniquely coded metal ring around a bird's leg. They were especially happy when they released all the ringed birds, most of which were blackcaps, song thrushes, blackbirds and robins, and wished them a safe journey to Africa.
We organised this activity in collaboration with CZIP, which actively promotes biodiversity, just as we are doing this autumn. This non-governmental organisation is implementing a project entitled "BioVal – Biodiversity", which is funded by the EU and co-financed by the Ministry of Public Administration, Digital Society and Media, while we are running a campaign called "I am with you, too", which is dedicated to the promotion of urban species.