Podgorica, 22 November 2016 – By using the smartphone app "Civic Institute", which was presented today in EU Info Centre by the NGO "35mm", Montenegrin citizens can file reports on violations of any of the rights they have as workers, patients or consumers.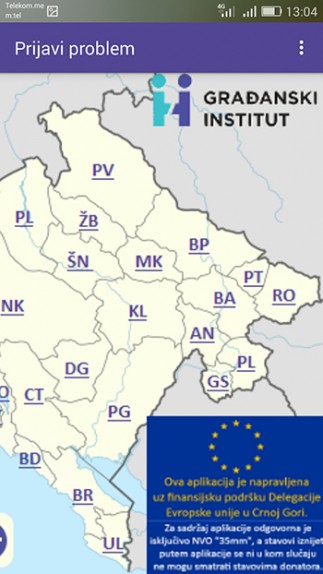 "By using the smartphone app, citizens can locate and describe their problem, and select the institution competent for resolving it. They also have the possibility to track the steps in the problem resolution procedure", said project manager Milica Djokdjuric.
The smartphone app "Civic Institute" is part of the project "Marginalised by the System: No More", which is financed by the European Union.
"Within the framework of this project, which is financed by the EU, the NGO '35mm' aims to provide direct information and certain forms of assistance to the disempowered, to involve the relevant institutions in dialogue and to build a strong network of organisations that will deal with the promotion and protection of the rights of workers, patients and consumers", said Djokdjuric.
The project partners of the NGO "35mm" are the Media Trade Union, the Centre for the Protection of Consumers (CEZAP), the NGOs "Krug života" and "Roditelji", the Union of Free Trade Unions of Montenegro, CAZAS, the NGO "Bolji život" (Better Life) from Plav and the foundation "Ruka prijateljstva" (Hand of Friendship).
Representatives of the Media Trade Union, the NGO "Roditelji" and CEZAP cited numerous problems that citizens have already reported, ranging from violations of labour rights, mobbing, problems in obtaining healthcare, to irregularities in subscription contracts and improper quality/price ratios of purchased goods. They all expect the new app to facilitate the reporting of rights violations and to further encourage people not to allow themselves to be neglected, but to seek the fulfilment of their rights.
"Civil institute" can be used by anyone with an Android phone or Google account. The app can be downloaded for free from the Google Play Store. It features a simple form for reporting the problem and it is in Montenegrin.
The contents of this news item are the sole responsibility of the EU Info Centre and can in no way be taken to reflect the views of the European Union.