In Montenegro, close to 1,800 Roma attend elementary school and only 135 go to high school, which is less than 0.5% of all high school students in the country. The project "Increasing access and participation of Roma students in secondary education and their transition to labor market" aims to improve the situation. The project is financed by the European Union (EU), and implemented by the NGO Young Roma in collaboration with the Roma Education Fund (REF).
"The main goal of this project is to increase the number of Roma and Egyptian students finishing secondary school, to help increase their employment rate, and aid in the increase in the number of students from the RE population. The program will provide with financial support through scholarships, mentorship and assist with recruitment after high school", said the Executive Director of the NGO Young Roma Mr. Samir Jaha during today's presentation of the project at the EU Info Centre.
The project will last three years. During each school year, 50 students will be awarded scholarship funds and will obtain mentors who will monitor their work. Twelve high school students will obtain practical experience in some of the selected organisations. The project's annual budget is €31,800, whereas the amounts allocated for scholarships are €15,000 and €9,450 for the mentorship.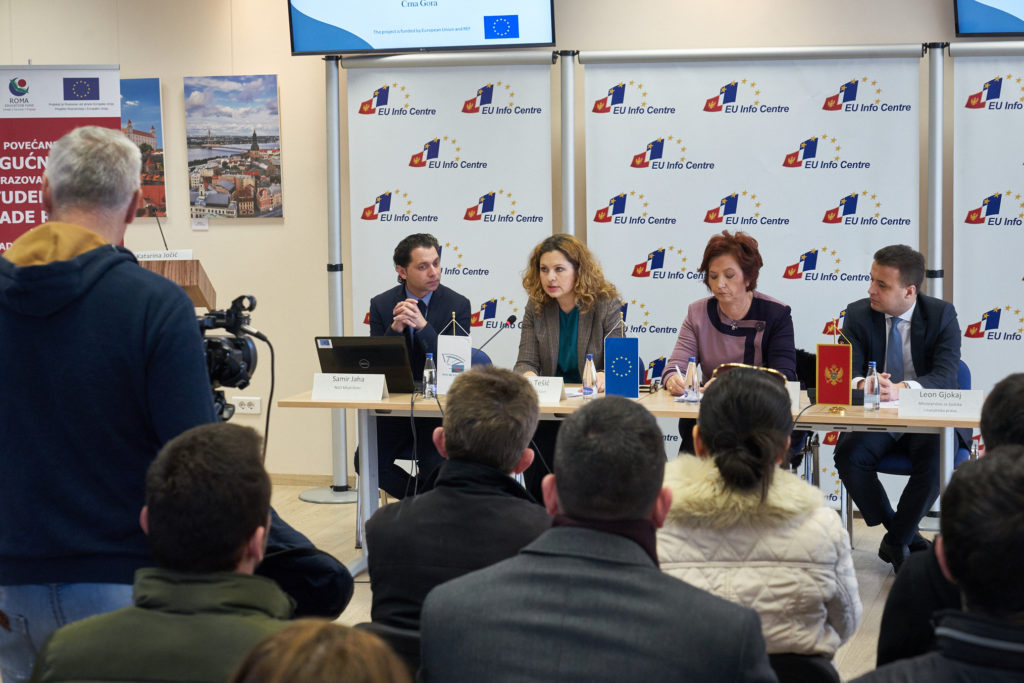 "The project is significant not just for ensuring better conditions for education and successes, but for breaking prejudices that employers have towards the Roma population", said Ms. Mladenka Tešić, Programme Manager for Human Rights and Democracy at the EU Delegation to Montenegro, at the project launch.  "Roma often think that education is not necessary, because jobs that do not require diplomas are intended for them. By long-term and joint action we can show that inclusive high-quality education is the best investment for all of us, especially for Roma, because education is maybe the only way for them to escape the vicious cycle."
Interested students and mentors will be able to participate by applying to a public competition that will be announced in February.
Apart from Montenegro, the project is also being implemented in other Western Balkan countries: Serbia, Bosnia and Herzegovina, Albania, Kosovo*[1], FYR Macedonia, as well as in Turkey. Partners in the project include the Montenegrin Ministry of Education, Ministry for Human and Minority Rights, Center for Vocational Education, Bureau for Education Services and the Employment Agency of Montenegro.
[1] * This designation is without prejudice to positions on status, and is in line with UNSCR 1244 and ICJ Advisory opinion on the Kosovo Declaration of Independence