Youth employment remains high on the agenda worldwide, and one of its most important components remains the need to match the skills young people possess with the skills required by the labour market. This project aims to enhance the capacities of young people in Ulcinj (Montenegro) and Shkoder (Albania) to better cope with job market requirements.
Youth from both cities will be equipped with the right skills, so they become "job ready" in the tourism sector. Also, they will be provided with opportunities to explore cross border activities and share best practices.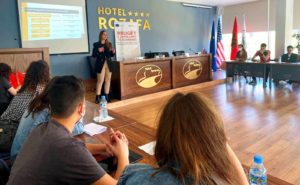 100 young people will attend a set of trainings on soft skills, VET courses, market research etc. They will learn how to align gained knowledge with practical experience through internship opportunities in local businesses. Following the end of the capacity building and internship component of the project, youth will learn how to design a business/project idea according to the market requirements. As a result, 10 best project ideas will be supported financially.