Over 18,000 players played our recently finished online trivia game "EU in the palm of your hand," which we organised on the occasion of Europe Day from 14 May to 11 June. In total, 68 competitors won valuable prizes by showing their knowledge about the European Union, member states, their history, geography, culture, art and sports. This is the second year in a row that we have organised this game. This year we improved it visually and increased the number of awards, which significantly affected the growth in the number of players compared to 2020.
Players who qualified for prizes were randomly selected in a transparent process, and were then gifted five vouchers for holidays in Montenegro worth €400, a tablet, 40 vouchers worth €50, as well as special prizes – gifts surprises prepared by the embassies of EU member states. In addition to the Delegation of the European Union to Montenegro and the EU Info Centre, the awards were provided by the embassies of EU member states, the Office for European Integration, the Youth Office of the Capital, the NGO Centre for Youth Education, and with the support of the NGO Union of Young Entrepreneurs.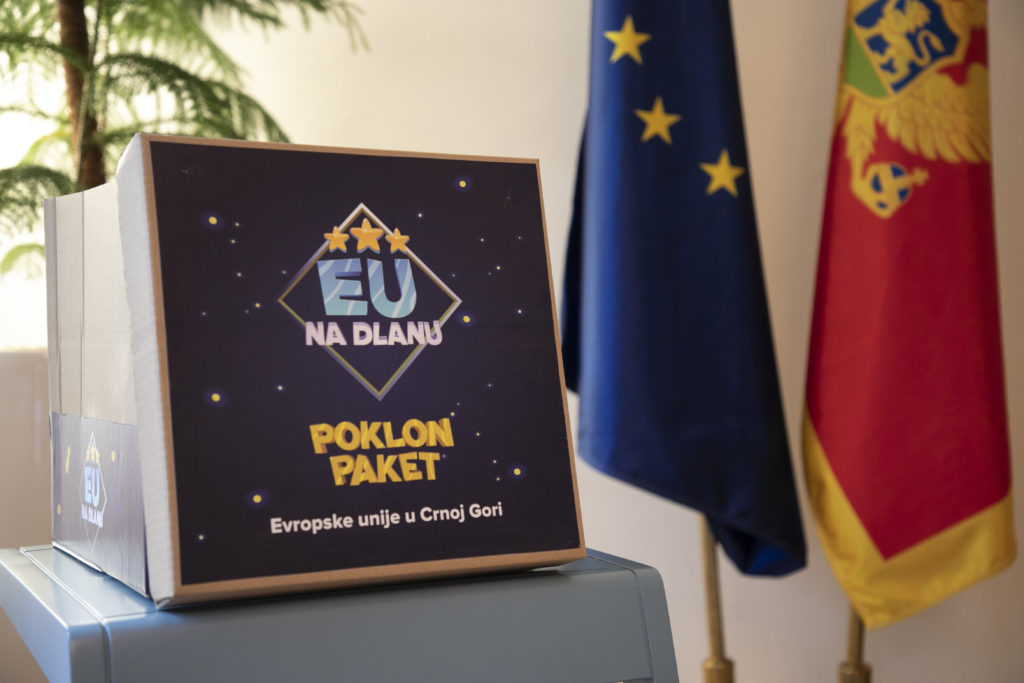 If you want to test your knowledge related to the EU and its member states, the game is still available at www.eunadlanu.me. The game begins with a roll of the dice, after which the pawn begins a "journey" through the EU. The country you will "visit" and the difficulty of the question depend on the number you get by rolling the dice. The game lasts an average of 15 minutes and is available on your phone and desktop.
At the time of the coronavirus epidemic, most of our activities were online. That is why we came up with the idea to offer citizens online content that was both educational and entertaining, in addition to giving them a chance to make feel happy and win interesting prizes. Our second goal was to help small and medium enterprises which are suffering from the major consequences of the situation in which we have been living for more than a year. That is why we have defined our prize fund in accordance with these goals. The game attracted a lot of attention last year, that is why we decided to repeat it. We are delighted to say that we managed to achieve even better results together with the players.