Vjola Avdiu from Ulcinj, Krsto Stevovic from Budva, and the Remikovic family from Podgorica are the winners of the competition, which was organised by the Delegation of the European Union to Montenegro and the EU Info Centre on social networks, as part of their environmental campaign "Set an Example. Join in!". The aim of the campaign was to promote environmental protection and motivate citizens to embrace a greener lifestyle.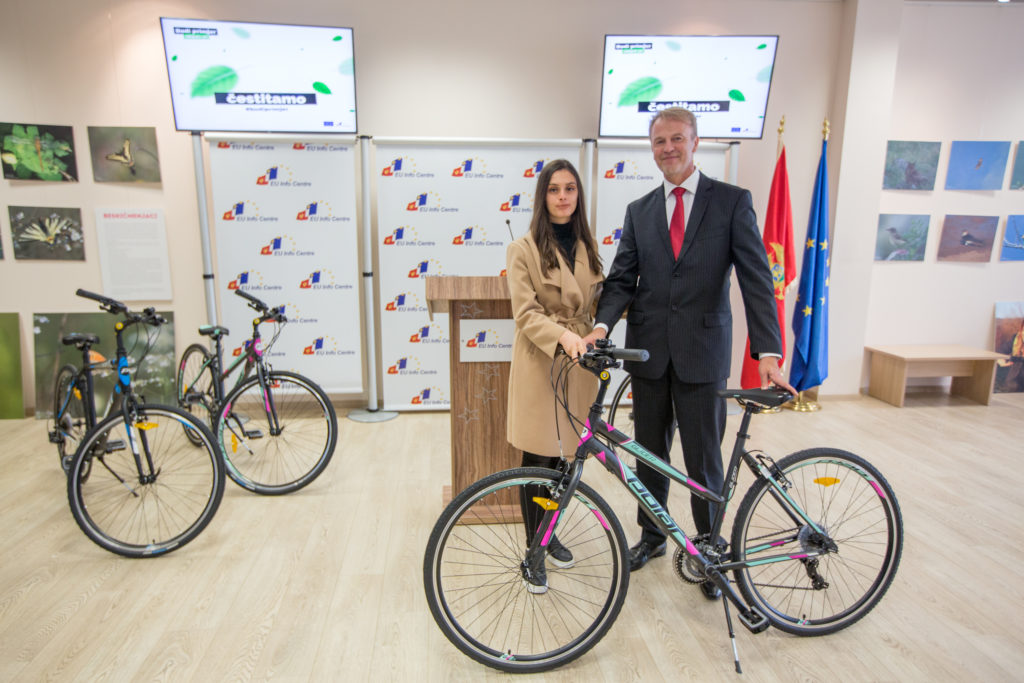 Social media users were tasked with posting a photo of an eco-habit they are practicing in or have started to implement into their lives after being inspired by the campaign. The three winners were the most creative among the pool of over 100 contestants. All participants posted interesting images during the month of the campaign, using the hashtag #budiprimjer. In accordance with the goals of the campaign, they were rewarded with bicycles, which were given to them by the EU Ambassador to Montenegro, Aivo Orav.
He emphasised that the participants, through their dedication, set an example for everyone in Montenegro, showing that we can all make small steps to change our daily routine – small steps that mean a lot for our planet.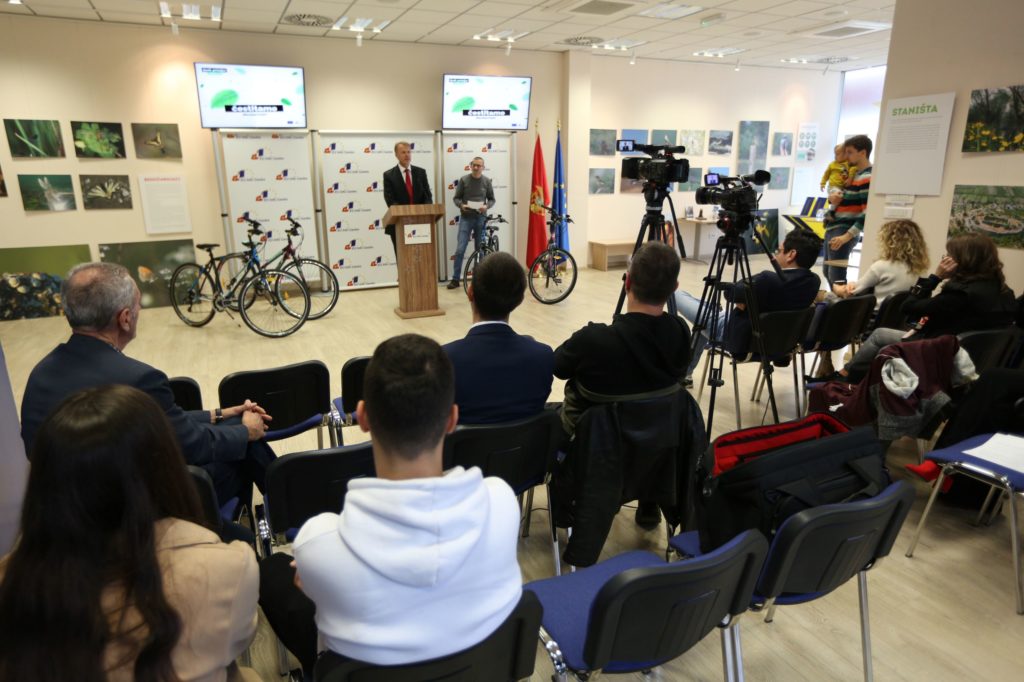 "This is the third year in a row that the EU in Montenegro is implementing a campaign with a focus on protecting the environment. We do this because we share your love for this country and especially its amazing nature, which is endangered in so many ways. While we are working with the Montenegrin authorities to fulfil all of the criteria related to environmental protection, we find it equally important to raise the citizens' awareness about how they can become involved," explained Orav at the award ceremony.
The winners pointed out that the award will inspire them to continue to apply eco-habits into their daily lives, and the bicycles will serve as an alternative mode of transportation.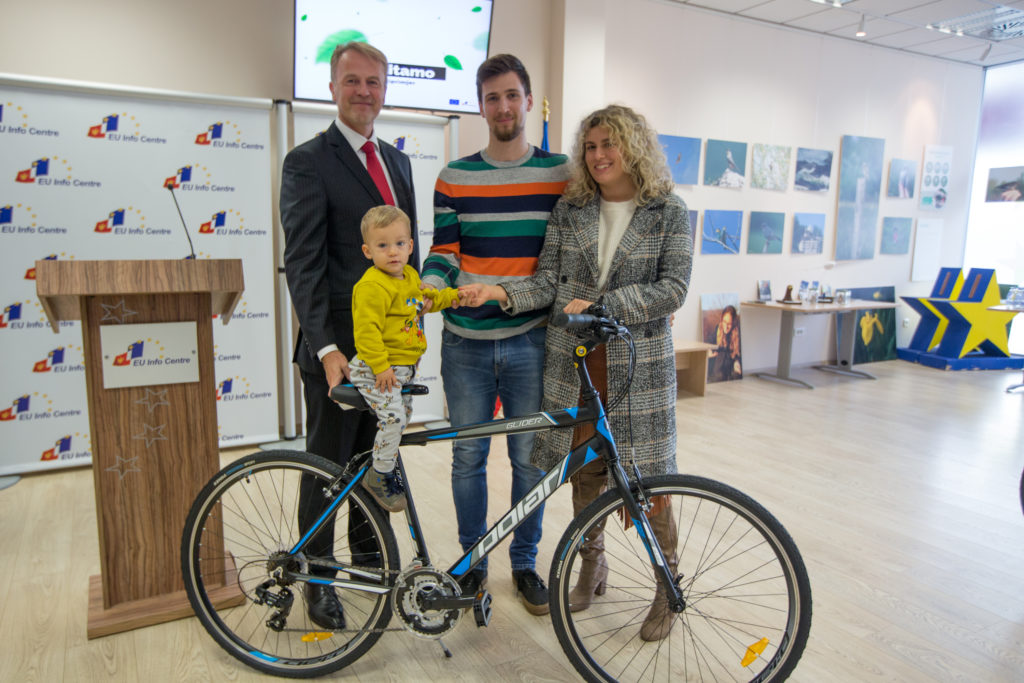 "We accidentally found out about this eco-campaign through Instagram, and as we were filming the first year of our son Isaac's life, we realised that there is a lot of material that can serve as an eco-example. We are trying to teach him the right habits from a younger age, such as the collection of garbage, which can be seen in our video. Very often, we also use bicycles as a means of transportation, although this can be difficult in our city. We are aware that we all need to change our habits in order to protect our environment," said Milena Remikovic on behalf of the winners.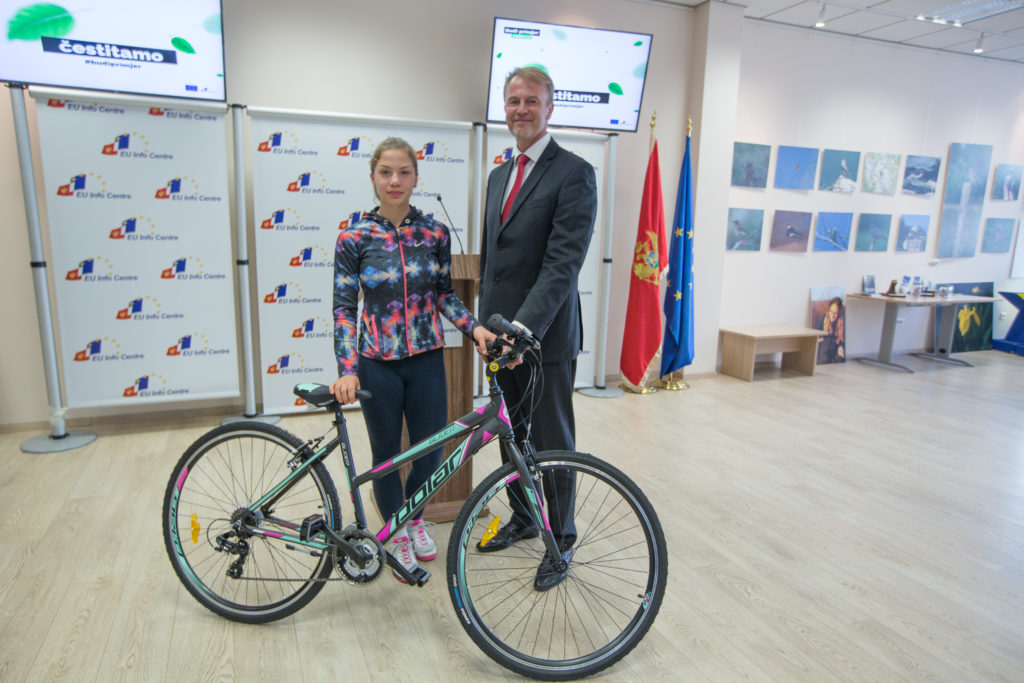 A bicycle was also given as a special award to Nikolina Gazivoda, the girl who linked the importance of environmental protection and education in her Facebook post. Nikolina lives ten kilometers away from her school; therefore, a new bike will provide her with permanent transportation, which she has not had on a regular basis until now.
"If the idea is really worth it, the people will recognise it, adopt it, and spread it further"
The influencers Zoran Markovic – Zonjo, Anđela Djuraskovic, Sandra Mitrovic, Ignjat Kotlaja, Milivoje Krivokapic, Tjasa Deu, and Srdjan Ivanovic were responsible for promoting the campaign on social networks.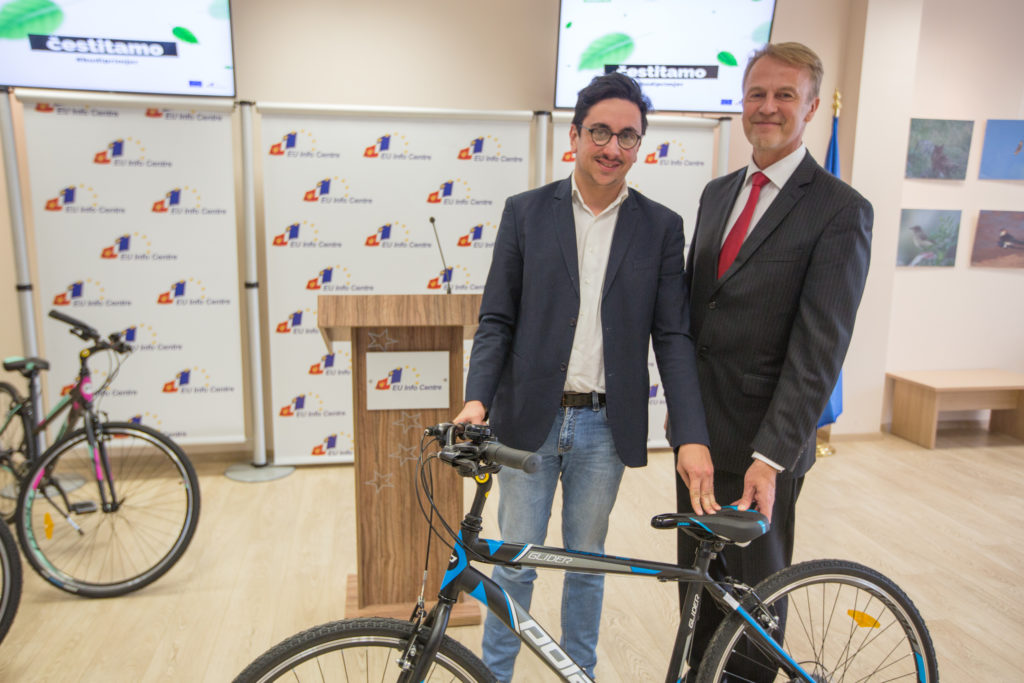 "I realised that maybe we kind of annoy people who don't take care of their enviroment, and I think we need to be more sensitive to people who don't have that attitude. Therefore, perhaps our future work should not only be about preserving nature and cleaning up, but also getting closer to these people and educating them," advised Zonjo during the award ceremony at the EU Info Centre.
The promoters of the campaign were also its "faces" – individuals who show by example that environmental protection is a matter of choice and that anyone can set an example and get involved. The faces of the campaign are Aleksandar Novovic and Kristina Zugic from NGO "Eco Logic," the handball player Milena Raicevic, and Milica Boca who said that "she will not stop until she cleans the whole of Montenegro."
"What I learned during the campaigns is that good ideas are like dominoes. It only takes one person to launch the idea and if the idea is really worth it, the people will recognise it, adopt it, and spread it further. This is precisely the value of the "Set an example. Join in! campaign" said Milica Boca.
In addition to the competition, a number of activities were organised during the campaign with a focus on responsible waste disposal, recycling, planting greenery, and the use of alternative modes of transportation.