The Roma community in Montenegro is now much better prepared to fight the coronavirus, Almir Tahiri tells us. He says that the Roma are slowly getting used to what the pandemic has brought with it. Unlike the first wave when the fight against the virus was a fight with the unknown, the Roma community are now far more prepared with most taking care and applying the rules, added Almir. He proudly pointed out that the proof is in the fact that there are no Roma in Montenegro who are infected with this virus.
"I think the reason for that is the fact that the Roma are afraid of this pandemic and all infectious diseases in general. Roma live in communities with plenty of contacts, but this time they realised that the situation is serious and I am proud of that. I think that the campaign led by the "United Movement of Roma and Egyptians," as part of the Stay Home campaign, also contributed a lot. We went and explained what was going on and that the virus was a serious matter. Many listened to us," said Almir Tahiri.
Almir Tahiri is an ordinary young man from Herceg Novi. He graduated from the Faculty of Political Sciences, and studied at the Central European University in Budapest. He was part of a student exchange programme in the United States. During his studies in Podgorica, he was active in the civil sector, dealing with Roma policies in order to alleviate the situation of his community.
In the first wave of the coronavirus in Montenegro, Almir tried to make it easier for his community to mitigate the complete lockdown. He was actively involved in the distribution of aid funded by the European Union and distributed by HELP and "Phiren Amenca." With this action alone, packages with basic necessities were distributed to 400 Roma families in Niksic, Berane, Bijelo Polje, and Herceg Novi. At that time, he put himself at the disposal of the Red Cross with his brothers and friends.
In the second wave of coronavirus, says Almir, the state took over all activities related to the fight against COVID-19. There was no need to engage in helping the community because things had returned to normal. Almir is committed to liaising with other Roma activists in Montenegro to create a platform for community discussion with top government officials related to the COVID-19 situation.
"Our philosophy is that we must start this conversation with a vision of a solution that would be mutually beneficial, both for the state and the community. Times are different and we should dedicate ourselves to creating modern strategies for integrating the Roma community into society. Gone are the days of meeting basic living needs. Young Roma see their community as accepted in society, without any prejudices," says Almir.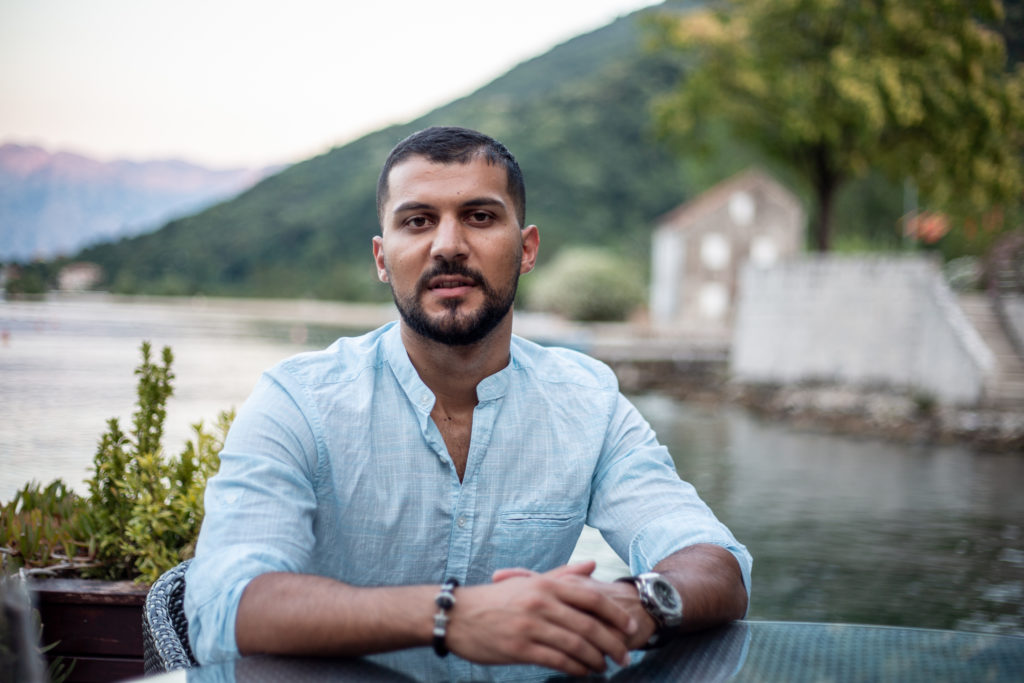 Being Roma means knowing what discrimination means. Being a Roma means feeling discriminated against because of the colour of your own skin on a daily basis. Radical change and time are needed to overcome discrimination. For a start, it would be good to introduce a chapter on the Roma community in school textbooks, so that the growing generations would look at diversity differently, advises Almir.
For years, Almir has been organising English classes for a group of young Roma in Herceg Novi. He teaches high school students about Roma activism, history, and culture. He talks to them about the opportunities that await them only if they continue their education. However, just as the society has prejudices towards the Roma, they too have their own prejudices, explains Almir.
"Some listened to me and some dropped out of high school. One should sit down and talk to see everyone's potential. I see potential among these young people, they all speak several languages. But they have no will. They do not have a positive example. They wonder why they would go to college when, as Roma, they are expected to clean the streets. That's what I was told: why do you learn when you're going to clean the streets. I did not accept that. And I did everything to get a university diploma. Only I know how difficult that journey was," says Amlir Tahiri.
Almir Tahiri is an example that a man can do anything when he has the will and when he is ready to sacrifice. This is what young Roma are being taught by him.