Civil society organisations (CSOs) are key actors in voicing citizens' attitudes and needs and encouraging active citizenship. They need both financial and non-financial support to continue to grow and make a contribution to building and fostering a democratic society.
This project aimed to build the capacities of CSOs to be professional, effective, accountable, sustainable and independent actors in the development of Montenegrin society. It consisted of three components: support to the  growth of medium-sized CSOs in Montenegro; support to the growth of small CSOs in Montenegro; and support to the growth and development of civil society leaders.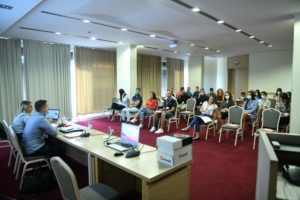 The project resulted in the Transformation Roadmap and CSO Development Index for (self)assessment of organisational growth and quality of work. In addition, three Emerging Civil Society Leaders' Forums (ECSLF) were held with a view to enabling an environment for increasing the impact of civil society, while the project also supported the establishment of the Youth Network of Montenegro. A total of 22 small and medium-sized CSOs were supported through a sub-granting scheme.