Podgorica, April 23 – There is plenty of room to improve the conditions and legal regulations in which the Montenegrin civil sector operates. That was said at the public debate "Dialogue on improvement of conditions for the work and development of the Civil Sector" organized by the Open Platform in the EU Info Centre.
Open Platform representative, Ajša Hadžibegovic said that this network is an informal concept of gathering civil society organizations concerned with the perception that the NGO sector has among citizens.
"The two main documents that we will discuss today are the Proposal for a Regulation on the selection of NGO representatives in the work of public bodies and holding of public debates, while the second document is a Proposal of a Decision on the Council for Cooperation between State Administration and NGOs," said Hadžibegović.
Anja Zagorac, the local coordinator of the project "Technical Support to the Development of Institutional Mechanisms of Public Administration and NGO Sector", said that the civil society is part of the interested public and there is no need for special public discussions with them.
"It also confuses the public servants and makes the whole system more complex. Therefore, I consider that the proposal of joint public debates is better. We should focus on the quality of consulting, reporting and feedback that can be offered," said Zagorac.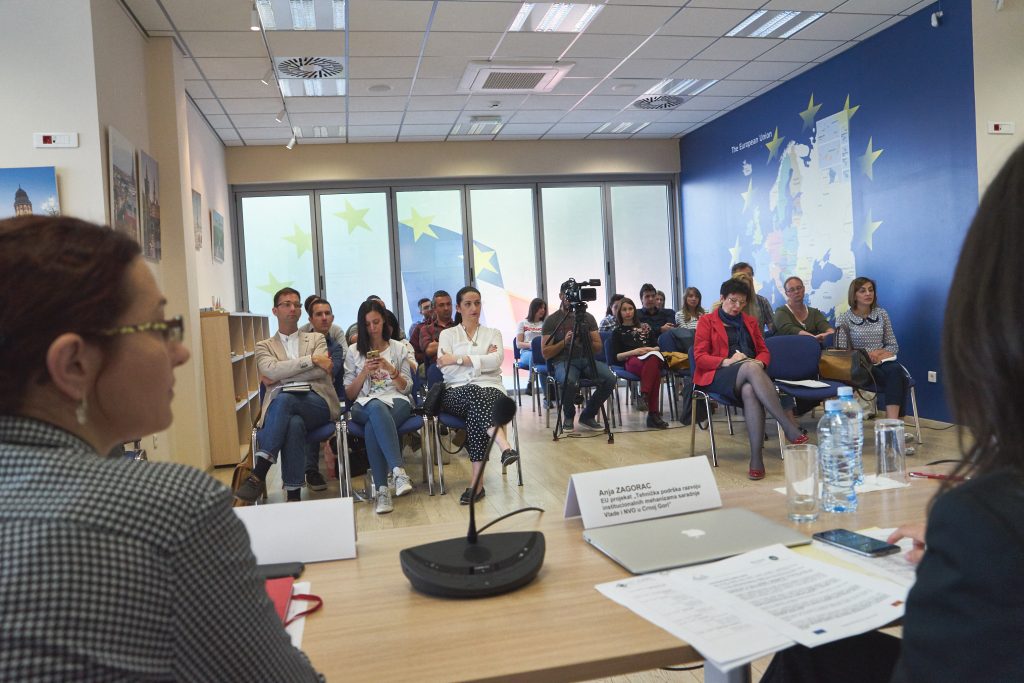 She also said that e-consultation, i.e. the establishment of a central Internet portal for public debates, would be an advancement in this area.
Anđelija Lučić from the Forum MNE said that the working bodies should be divided into permanent working bodies and temporary working bodies in order to reduce the amount of necessary procedures required to become a member of the working body. She says that obligatory project report is problematic because some NGOs deal with a particular area, but maybe they did not have a project in last year which disqualifies them from offering a representative.
Ivan Milosevic from the NGO ZID said that precious time is lost on getting stamps and seeking support for getting a representative into a working group for drafting laws. He said that the contribution of the NGO sector in working groups is on complete voluntarily basis and has not been properly valued.