The coronavirus epidemic has changed the way we used to live. The current situation also affects the way we celebrate important dates. Therefore, the EU Delegation to Montenegro and EU Info Center decided to celebrate this year's Europe Day in a different way. Differently, but together nevertheless – is our key meesage.
We have put together a TV special entitled "Tune in to Europe" for citizens of Montenegro, to be broadcast simultaneously over three national TV stations: TVCG, Prva TV and Vijesti TV on Saturday evening, May 9, starting 8:10 pm. The programme will be moderated by Young European Ambassadors and featuring main guest star, regional artist Rade Šerbedžija and the Zapadni Kolodvor band. Honoring the principle of solidarity, Šerbedžija decided to play a concert in his family home on the Istrian coast exclusively for Montenegrin citizens, while relinquishing his share of live performance royalties.
Viewers will be greeted by the Ambassador of the European Union to Montenegro Aivo Orav and Prime Minister of Montenegro Duško Marković. Ambassador Orav and resident ambassadors of EU member states will talk about how they have been spending previous weeks and how they have been adapting to new circumstances. A special segment "Evropalica" is focused on children and their humorous replies to questions about the EU and its values.
As Europe Day is approaching, Ambassador Orav reflects on the current situation and talks about the importance and presence of solidarity.
"This crisis situation has taught us to see the world and Europe with different eyes. And what we see is the united approach of the European Union to fight against this virus, and I'm absolutely sure that European Union will come out from this crisis stronger and more united than ever before. And we havent forgotten our friends in the Western Balkans. The European Union has shown its solidarity here in Montenegro and we in the European Union see from Montenegrin side a very constructive and cooperative approach", Orav has stated.
In addition to the TV special, we have in store an interesting online programme planned throughout the month of May, in line with the existing practice of celebrating Europe's birthday all month long. Our social networks are already puting up posts as part of the "EU in the palm of your hand" campaign, which features high-quality and valuable contents for all generations.
From May 18 to June 18, we will host the first online European Film Festival. The films will be available on a special online platform with free access for all those interested.
From 25 May to 25 June you can take an online course on European democratic citizenship, which aims to promote the concept of European values among the youth through informal education.
In late May, together with the embassies of EU member states in Montenegro, we will be promoting a book in which resident EU ambassadors share on how they experienced the coronavirus epidemic.
This year, the European Union is celebrating its 70th birthday. Europe Day is marked on May 9 every year, in memory of the Declaration of French Foreign Minister Robert Schuman in 1950, which heralded the project of reconciliation and unification in Europe – the establishment of the European Coal and Steel Community – which eventually turned into European Union.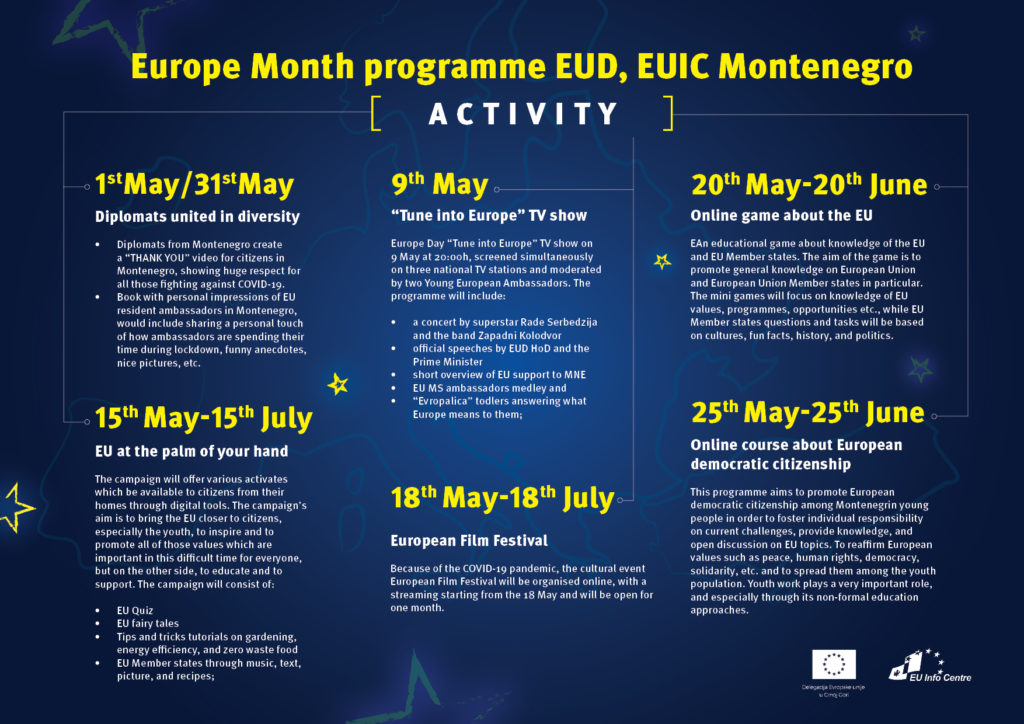 Europe Month programme EU in Montenegro

 

1st May

 

 

30th May

Diplomats united in diversity

·       Diplomats from Montenegro create a "THANK YOU" video for citizens in Montenegro, showing deep respect for all people on the front line fighting against COVID-19.

·       Book with personal impressions of resident EU ambassadors in Montenegro, including a personal touch of how ambassadors are spending their time during lockdown, funny anecdotes, nice pictures, etc.

 

 

 

9th May

"Tune into Europe" TV show

Europe Day "Tune into Europe" TV show on 9 May at 20:00h, screened simultaneously on three national TV stations and moderated by two Young European Ambassadors. The programme will include:

·       a concert by superstar Rade Serbedzija and the band Zapadni Kolodvor

·       official speeches by EU Ambassador and the Prime Minister

·       short video overview of EU support to MNE in the fight against the Covid-19 pandemic

·       EU MS ambassadors medley and

·       "Evropalica" – our youngest answering what Europe means to them;

 

 

 

15th May  15th July

EU at the palm of your hand – second edition

The campaign is offering various activities available to citizens from their homes through digital tools. The campaign's aim is to bring the EU closer to citizens, especially the youth, to promote EU values, educate and inspire. The campaign consists of:

·        EU Quiz

·        EU fairy tales read-outs

·        Tips and tricks, tutorials on gardening, energy efficiency, and zero waste food

·        EU Member states through music, text, picture, and recipes;

18th May 18th June
European Film Festival

Because of the COVID-19 pandemic, the cultural event European Film Festival will be organised online, with streaming starting from on 18 May and will be open for one month

 

20th May 20th June

Online game about the EU

An educational game about knowledge of the EU and EU Member states. The aim of the game is to promote general knowledge on European Union and European Union Member states in particular. The mini games will focus on knowledge of EU values, programmes, opportunities etc., while EU Member states questions and tasks will be based on cultures, fun facts, history, and politics.

 

 

25th May 25th June

Online course about European democracy citizenship

This programme aims to promote European democratic citizenship among Montenegrin young people in order to foster individual responsibility on current challenges, provide knowledge, and open discussion on EU topics. To reaffirm European values such as peace, human rights, democracy, solidarity, etc. and to spread them among the youth population. Youth work plays a very important role, and especially through its non-formal education approaches.