Ensuring equal employment opportunities for persons with disabilities (PWDs) is very important for their social inclusion. However, they still face hurdles in the job market and have lower employment rates than the rest of the population.
That is why this project was aimed at increasing employability and employment opportunities for persons with disabilities in the cross-border area of Montenegro and Bosnia and Herzegovina. During its implementation period, more than 120 PWDs had the opportunity to participate in the project and go through its capacity building programme. Also, 21 PWDs were part of the POWER Internship Programme, which enabled them to develop professional skills and acquire skills that will help them to integrate into the working environment.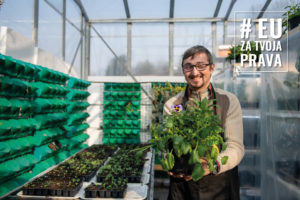 PWDs in the cross-border area received online career guidance and support through the interactive internet platform. In addition to that, in Berane (Montenegro) and Mostar (Bosnia and Herzegovina) were organised two Job Fairs for PWDs. Within the fairs, two workshops were held on public support for employment of people with disabilities; and active job search with concrete examples of good practices. In short, this project helped develop a better environment for the employment of PWDs and increased employment opportunities for PWDs in the cross-border area.