Beekeeping is a profitable enterprise, which helps self-employment and poverty reduction, and does not have a negative impact on the environment. This project was aimed at developing beekeeping as a good opportunity for self-employment of persons with disabilities (PWDs) in the border regions of Bosnia and Herzegovina and Montenegro.
During its implementation period, 40 persons with disabilities attended tailor made training and mentorship programmes. In that way were built their capacities in beekeeping and provided guidelines for their self-employment in the sector. They were also provided with starter packs – beekeeping sites were installed, thus equipping their business start-ups.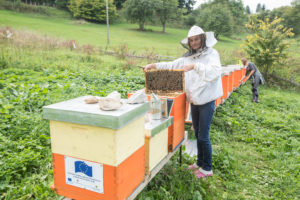 Additionally, honey packing factory sites were installed and equipped, and honey producers clusters were established. One cluster was set up in Montenegro and the other one in Bosnia and Herzegovina, with twenty members per cluster in each country. Within this project, a marketing plan for market placement of produced products was developed and networking of honey producers in cross-border areas was supported.