Solid waste collection systems are designed to improve conditions in cities worldwide and are of crucial importance for efficient protection of the environment.
This project was aimed at establishing an efficient and integrated waste collection system in the Municipalities of Berane (Montenegro) and Malesi e Madhe (Albania), in order to contribute to a better environmental protection in these areas.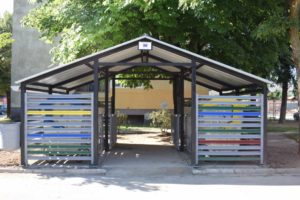 During its 30 months long period, 16 green islands were installed and a functioning system of differentiated waste collection in target municipalities was established. More precisely, within this project 8 green islands and 42 containers were given to the Municipality of Berane. It also contributed to raising awareness of the population about the benefits of proper waste collection and strengthening the capacity of public institutions dealing with environment issues in these municipalities. Working on the implementation of actions on differentiated waste collection, recycling and reduction of waste at individual and public level were concrete actions in changing the attitude of citizens and institutions towards their present problems of waste and pollution.