The crossborder area of Municipality Berane (Montenegro) and Skodra region, Hoti in Kastrat, Malesia e Madhe (Albania) is rich with undiscovered archaeological sites from different epochs. However, it is still economically underdeveloped as not enough efforts have been made for its valorization.
Tumbarice Castrum was covered by soil and dense forest while only fragments of Basilica of Hoti in Kastrat were gathered by the local farmers prior to archaeological works. This project aims to connect two participating locations and develop a new tourist tour, which will attract more tourists and contribute to strengthening the economy in the area. In other words, the project addresses the need for economic growth through valorization of tourist potential. Its aim is to preserve cultural heritage, as well as Christian archaeological heritage, and prevent their further devastation.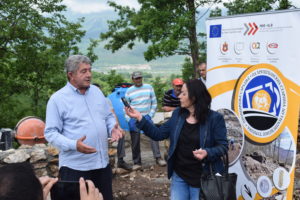 The project connects for the first time relevant individuals and experts working in the field of archaeology in the cross border area, so that they can exchange their knowledge and experience. This will make the basis for their future cooperation and spur interest among young people to engage in fields of archaeology as well as the tourism sector. It also contributes to establishing a better relationship between sectors of culture, tourism and archaeology, especially in cross border context.