The EU Programme for education, training, youth and sport – Erasmus+ set a  record when it comes to number of participants and the budget. Nearly 800 000 people from 44 countries took part in the project in 2017, while the EU invested €2.6 billion – the European Commission annual report on Erasmus+ has shown. The number of participants has increased by 10 %, while budget in 2017 was 13% higher compared to 2016. Over 84 700 organisations for education and youth participated in 22 400 projects.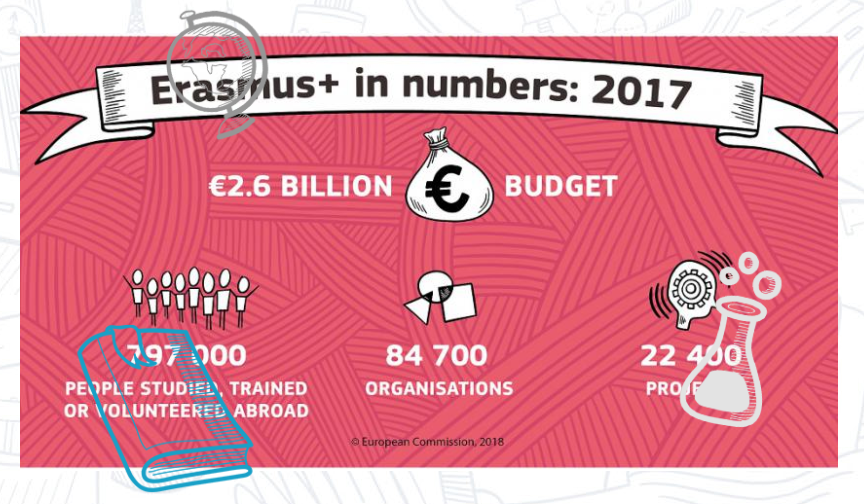 The programme is becoming more inclusive and more international. The report also highlights that Erasmus+ is becoming more open for people from disadvantaged backgrounds. This made it possible to provide more opportunities for young people than ever before. It is interesting that the record was set  in a year when Erasmus+ celebrated its 30th anniversary.
"As we celebrated three decades of Erasmus, 2017 became a year in which the programme once again broadened horizons, fostered cultural exchanges, and opened new opportunities in the fields of education, training, youth and sport. The figures published today confirm the pivotal role Erasmus+ is playing in building a stronger, more inclusive and more resilient Europe. We want to continue with an even bigger and better programme under the new long-term EU budget to ensure that we invest more in young Europeans from an even broader range of backgrounds", stated Commissioner for Education, Culture, Youth and Sport, Tibor NAVRACSICS.
The geographical scope of the programme has expanded from 11 countries in 1987 to 33 currently (all 28 EU Member States as well as Turkey, the former Yugoslav Republic of Macedonia, Norway, Iceland and Liechtenstein). Montenegro is part of the programme, because Erasmus+ is also open to partner countries across the world. By now, over 750 students and university staff from Montenegro have participated in Erasmus+.
The current Erasmus+ programme, running from 2014 to 2020, has a budget of €14.7 billion and will provide opportunities for 3.7% of young people in the EU to study, train, gain work experience and volunteer abroad.