On the occasion of Women's Day, the European Union in Montenegro once again organized workshops on women's activism in high schools. The goal was to point out to the high school girls, but also to their male peers, the changes that women have won for themselves over time, but also to empower young people to be active participants in the society, by fighting for the values they care about.
Six selected female activists, working in a variety of fields, from ecology to women's rights, spoke to high school students from six high schools. Environmental activist Andjela Đurašković held a workshop at the Medical School in Podgorica, during which she pointed out that each of us can bring changes in society, if they truly want to achieve them.
"None of us will be perfect activists and we should not present ourselves as flawless persons who do not make mistakes, but today we should do as much as we can and learn along the way new ways to be better at it," said Angela.
Feminist Maša Elezović shared her experiences during an online workshop at the Vocational High School in Bar. On that occasion, she explained to young people that activism is practiced by those who believe that the world can really be a better place and who are ready to invest part of their time in fixing it.
"Activism is very important to me, because in that way I thank the women who fought for the rights I enjoy today and it gives me the opportunity to leave to the future generations a world that is at least a little better," Maša said during her workshop.
Photographer and feminist Nada Vojinović presented her socially responsible campaign "Let's normalize our bodies" to high school girls in Cetinje. In a conversation with them, she revealed that this topic is very close to them, given that they are still exposed to criticism if their body does not conform with accepted standards of beauty.
"Under that pressure, we forget our true values, and that is what we are like as persons, how we treat others and why we allow to certain people, who should not be part of our circle, to have an impact on us," said Nada.
Youth activist Iva Malešević held a workshop at the Spasoje Raspopović Vocational High School in Podgorica. Iva started working as an activist as a child, so she proudly told the story of how she and her friends managed to get a Christmas tree in the town of Risan.
"There are no big or small, important or unimportant actions, because you, as a generation, know best what topics are relevant to you. Always remember why you set out to do something, because it can be the best support and reminder to persevere when it comes to the things you really care about," Iva told them.
Well known NGO and women's rights activist Maja Raičević talked to high school students from Nikšić during an online workshop. She emphasized that the fight for women's rights is, in essence, a fight for a better society as a whole, because women make up more than half of the population, and often their position is reflected in the position of children.
"It is not easy to take part in that fight. It is laborious and lasts a long time. But that is why we have managed to change the laws and improve certain practices, which can improve the position of women in the society. That is the result of our many years of activism," Maja explained to them.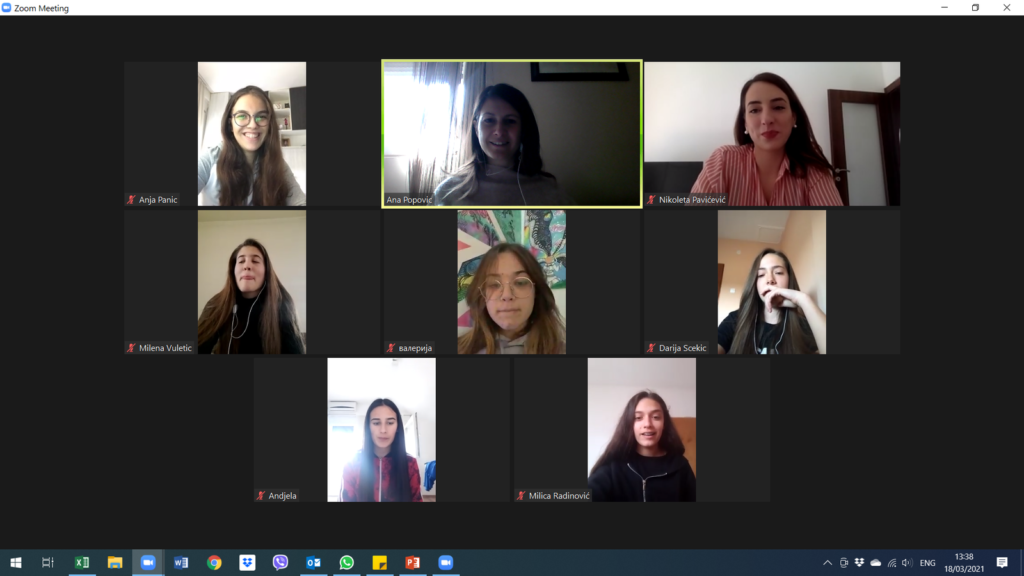 Nikoleta Pavićević, who became an activist during the protests against the cutting of cypress trees in Bar, talked to the young people at the Secondary Mixed School in Golubovci. Nikoleta shared her experiences with them and said that activism is important because it makes the world a better place, contributing to the society and the community.
"All around us, in our community, there are countless big and small things that need to be changed. "Things that we can influence and try to make them better," said Nikoleta.
The high school girls and their male peers shared their experiences after the workshops. Here are just some of the anonymous comments, which indicate how much this way of non-formal education is needed by young people.
"It was great. Workshops are usually passive and no one asks us for our opinion. Now we had a chance to say what we think. Just keep this up."
"I am so thrilled with the idea. I would like that we, high school students, start something similar. I hope that there will be more workshops like this."
"Women's rights are significantly more respected than before, but again, women's position is not ideal. We are not equal, because we live in a patriarchal society."