Podgorica, 19 July 2017 – The aim of the project "Human Resources Development" 2012–2013 is to prepare the state administration, nongovernmental organisations, the local community and entrepreneurs for accession to the European Social Fund, which is the condition for closing Chapter 19 – Social Policy and Employment, announced representatives of the Ministry of Labour and Social Welfare and the Ministry of Finance at a conference in the EU Info Centre.
The total amount of funds is €5.8 million, of which 85% has been provided by the European Union, and the rest is funded by the state.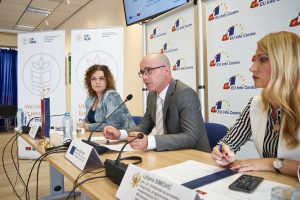 "Through this programme, we have actually begun the practice, not only for the state institutions and the administration of Montenegro, but for the whole community, for those who, after Montenegro's accession to the European Union, will be able to use the European Social Fund," said Liljana Simovic, the Director General at the Ministry of Labour and Social Welfare of Montenegro.
The programme will last until the end of the year, after which it is expected that a new financial agreement will be signed.
"The current IPA programme envelope, worth nearly €5 million, will be trebled over the next three years. The EU will soon commit itself to supporting the Montenegrin Government with an additional €15.3 million from IPA 2 funds to accelerate Montenegro's transition to a knowledge-based economy," stressed Romain Boitard.
Simovic explained that the funds are being used for the implementation of project activities: increasing employability, modernising education programmes and teacher training, procuring equipment for schools in accordance with modernised education programmes, improving cooperation between the Employment Agency and the Centres for Social Work, as well as improvement of Montenegro's capacities for participation in the Horizon 2020 programme.