PODGORICA, 21 September 2017 – It's healthier, it saves you money, it reduces your carbon footprint – these are some of the reasons why citizens should sometimes ride a bike instead of driving a car, it was argued at today's public discussion at the EU Info Centre organised within the European Mobility Week campaign.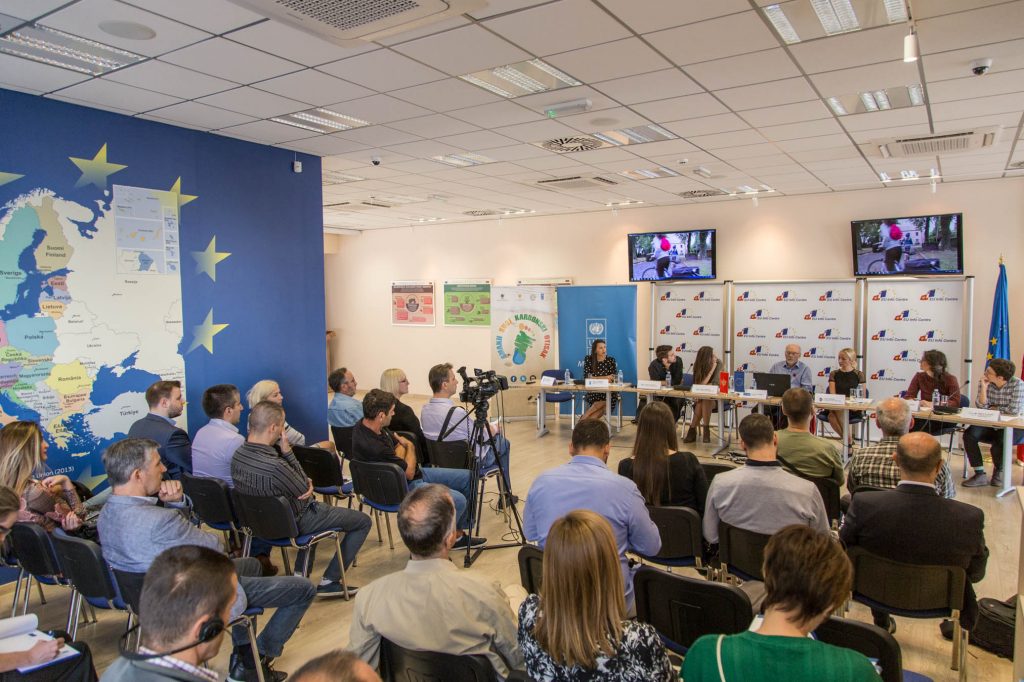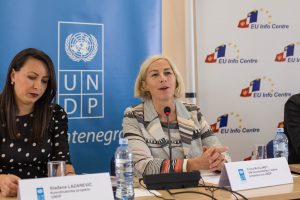 Fiona McCluney, the UN Resident Coordinator and UNDP Resident Representative for Montenegro, opened the forum with another interesting argument to be added to the above list – meeting new people – thus promoting cycling as a more social mode of transport.
All these points argue in favour of the promotion of alternative modes of transport that are cleaner, more sustainable and smarter, which is precisely the goal of European Mobility Week. However, this topic was given an extra dimension by the guest of the forum, Jens Erik Larsen, a cycling expert from Copenhagen, a city in which half of the traffic consists of bikes!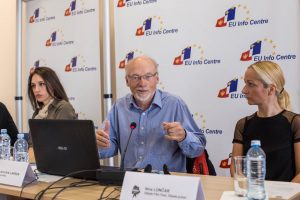 In addition to useful information on how Denmark has developed its bicycle infrastructure and made cycling an everyday practice for its citizens, Larsen also presented the concept of cyclotourism that could bring significant economic benefits to Montenegro as a growing tourist destination. Larsen is also one of the founders of EuroVelo, a network of European cycling routes, running under the slogan "Discover Europe by Bike", which expects by 2020 to have completed a total of 15 cycling routes that run 70,000 kilometres across the entire European continent. In January Montenegro too joined this network.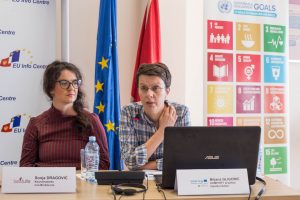 "I think that if we really had a real cycling route in Boka, it would be one of the most beautiful cycling routes in Europe and maybe even beyond," said Biljana Gligorić of the Kotor-based organisation Expeditio, also a participant in the forum. We do not know if that will actually happen, but we will soon be able to have a glimpse of it. Namely, the Municipality of Kotor and Expeditio have started to implement an EU-funded project within a cross-border cooperation programme, through which, in two years, a cycling route will extend from Kotor to Sveti Stasije.
Podgorica has already built several cycling routes, and now, with the infrastructure in place, new space has been opened for improvements and for the development of other cycling services, says the representative of the organisation Biciklo.me, Sonja Dragović. One such service is the Ciklograd.me web service launched by Biciklo.me, through which, among other things, cyclists can file reports to the competent services on problems they encounter in the infrastructure, find maps of bicycle routes near Podgorica, or report a bicycle theft.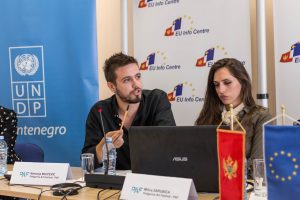 In addition to urban mobility, another forum topic was the use of public spaces, so Nina Lončar from the Džada Film Festival, and Milica Zarubica and Nemanja Miličević from the Podgorica Art Festival (PAF) presented their successful ideas and experiences to the audience.
The panel was organised by the EU Info Centre and UNDP as the national coordinator of the campaign for marking European Mobility Week.