Better cooperation between competent institutions and the education of the Roma population are the best ways to combat child begging. This is the message from the debate entitled "Stop Child Begging" organised by the Delegration of the European Union to Montenegro and the EU Info Centre, on the eve of 8 April, the International Roma Day. The debate was preceded by a screening of the film directed by Nikola Vukcevic and financially supported by the EU.
Nikola Vukcevic explained that during the making of the movie "Stop Child Begging" he realised that there was a lack of cooperation between competent institutions in order to solve this problem among Roma children. "If this country has laws, then these children cannot be on the street," said the Montenegrin Director during the debate. Vukcevic also said that there are practical ways to help those children aside from institutions.
"We can provide jobs for Roma parents. When they start earning for a living, they will certainly not send their children to beg," Vukcevic concluded.
The protagonist of the movie "Stop Child Begging" is Elvis Berisa, a Roma activist who has managed to overcome the challenges, to earn an education, and to land a job. Unlike most of his compatriots, he had strong support from his parents, despite the difficult living conditions. In addition to this support, his perseverance prevailed as well.
"When I enrolled in high school, I had to choose whether to continue my education or find a job to help my family. I decided to continue education, but I also had to work after or before school. After high school I continued to be persistent and decided to enroll in the faculty, too. Back then I had to do three jobs and study at the same time. My average sleep was four hours, but it was enough because I felt very useful. So besides family support, it is very important to be persistent in everything you do," said Elvis.
Berisa's example confirms that education is one of the solutions when struggling against child begging because, thanks to education, this young man managed to find a job and support himself.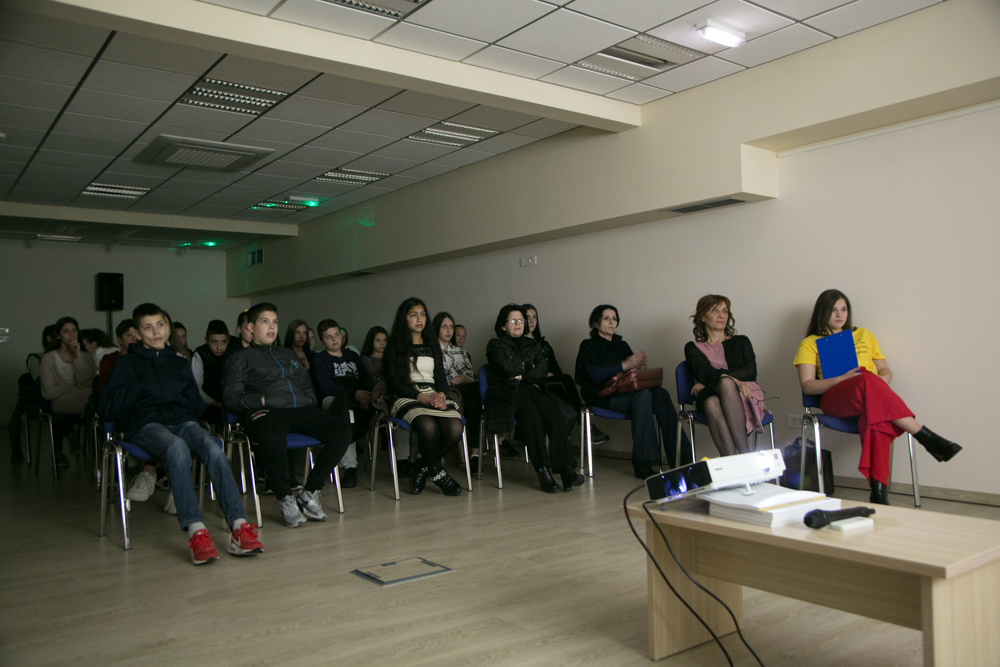 "To make this happen, it is essential that we all support the children who are forced to leave school to help their families. Schools and students like you are the first to help. If you notice that a child has poor results or is lacking education, you should not avoid these children but instead you should show them through your own example how they should behave, and help them a little with school assignments if you can," said the young Roma activist.
In the audience there were pupils and teachers of elementary schools attended by Roma children. One of these schools is also the Elementary School "Bozidar Vukovic Podgoricanin," whose Director, Ljubinka Nedic, participated in the debate. As the main challenge in the education of Roma children, Director Nedic mentioned the attitude of the parents towards education, their socioeconomic status, and their customs. That is why she emphasised that each of us needs, and can, help them, and thus indirectly reduce the possibility of starting to beg.
"Sit with them in school benches, spend small and big breaks with them, celebrate birthdays together, sit next to them on a bus when you go out on a trip, or stay together in rooms at excursions; study with them, help them master the Montenegrin language," Nedic said during the debate.
After the film and the debate, Andjela Mrdovic and Marija Jankovic realised how they could help their Roma peers more.
"We need to help Roma children and to be nice to them," said Angela. Her companion Marija added: "We have learned from this example that we should help Roma children, that we should not push them away but we should all encourage them to be better, teach them something they do not know, so that we can help them make a change in their lives."