PODGORICA, 22 June  2017 – Delegation of the European Union in Montenegro, with the support of the EU Info Centre, in the period from 3 July till late October organises the "European Film Days of in Montenegro" by which the Montenegrin public in eight municipalities will be able to see 11 films from various European productions that have provided the embassies of EU member states.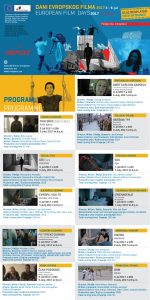 Entrance to all screenings is free. The films will first be screened in Podgorica Cineplexx from 3 to 8 July in the evening (screenings are planned for 18 and 20 hours), followed by the film caravan in Mojkovac, Petnjica, Pljevlja, Bijelo Polje, Niksic, Kotor and Tivat, where they  will be a part of a cultural program organised by the municipalities. European Film Days in Podgorica begin on July 3 at 20 hours in the Cineplexx, showing the Danish family drama "Silent Heart". During the six-day program, the audience will be able to enjoy a variety of genres from comedy, black humor, through the mystery and romantic comedy to documentary film.
The program of the event involved the Embassies of Denmark, France, Netherlands, Italy, Cyprus, Hungary, Germany, Poland, Portugal, Slovakia and Sweden.
Although the entrance to the cinema will be free, tickets must be taken in a Cineplexx and booked by phone 020 414 424.
Movies screen schedule can be found on the websites of the Delegation of the European Union www.delmne.ec.europa.eu , EU info center www.euic.me and Cineplexx www.cineplexx.me .