PODGORICA, 26 October 2017 – Plastic bottles and other plastic food containers could endanger the health of consumers if they are not properly used, warned the NGO Centre for the Protection of Consumers (CEZAP). At a conference held in the EU Info Centre the NGO announced the launch of an initiative to address this problem.
Plastic packaging, as they explained, can release hazardous chemicals if improperly used. Consumers should therefore pay attention to the labels and numbers located on the bottom of plastic bottles and boxes, because they indicate to what extent that specific type of plastic is hazardous to health. They advised consumers to immediately throw away bottles whose base is marked with the numbers 3 and 7, because they contain the most dangerous substances, while those marked with the numbers 1 and 6 could also discharge harmful substances. Plastics that do not release chemicals into the water are marked with the numbers 2, 4 and 5 or with one of the following labels: HDP, HDPE, LDPE or PP.
CEZAP said that many experts warn that certain types of plastic packaging should not be reused, meaning that consumers should not pour other substances into these bottles after they have consumed the original content, which, as they say, is everyday practice in Montenegro.
"I know hardly anyone who does not use these bottles, not only two or three times, but who knows how many times. Consumers must know that such bottles must be thrown away after use, and especially if they are deformed, which they often are," said CEZAP president, Olga Nikcevic.
She explained that the longer plastic bottles are used, the greater the chances that microorganisms will multiply in them to such an extent that the product becomes dangerous.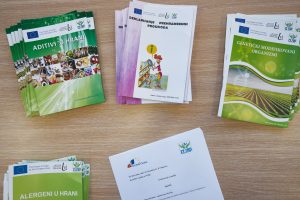 Since February 2016, CEZAP, in cooperation with the Lithuanian Consumers Institute (LCI), has been implementing the project "Capacity Building of Montenegrin Consumer NGOs in the Field of Food Safety and Quality", which is funded by the EU.
Within this project, an information centre providing consultancy on food safety and quality has been put at citizens' disposal, and CEZAP also provides consumers with information and advice on legal regulation on food safety and quality, and helps them prepare complaints and inquiries addressed to vendors and relevant institutions.
CEZAP has also announced a series of events in the northern and southern municipalities, where consumers will be able to get necessary information on their rights and where CEZAP will present a handbook for consumers on food safety and quality.