Podgorica, 11 April 2018 – The percentage of overweight and obese children in Montenegro is high, and obesity is taking on epidemic proportions, doctors warn. During a panel discussion held at the EU Info Centre, professionals invited parents, who play a key role in shaping children's eating habits, to work together on changing them. Research published by the Public Health Institute shows that about 40 percent of children are overweight or obese. The panel was organised by the Association of Parents 'CAZAS' and the SOS Telephone Line for Women and Children Victims of Violence, Podgorica, within the project "HealthUP", supported by the Delegation of the European Union to Montenegro.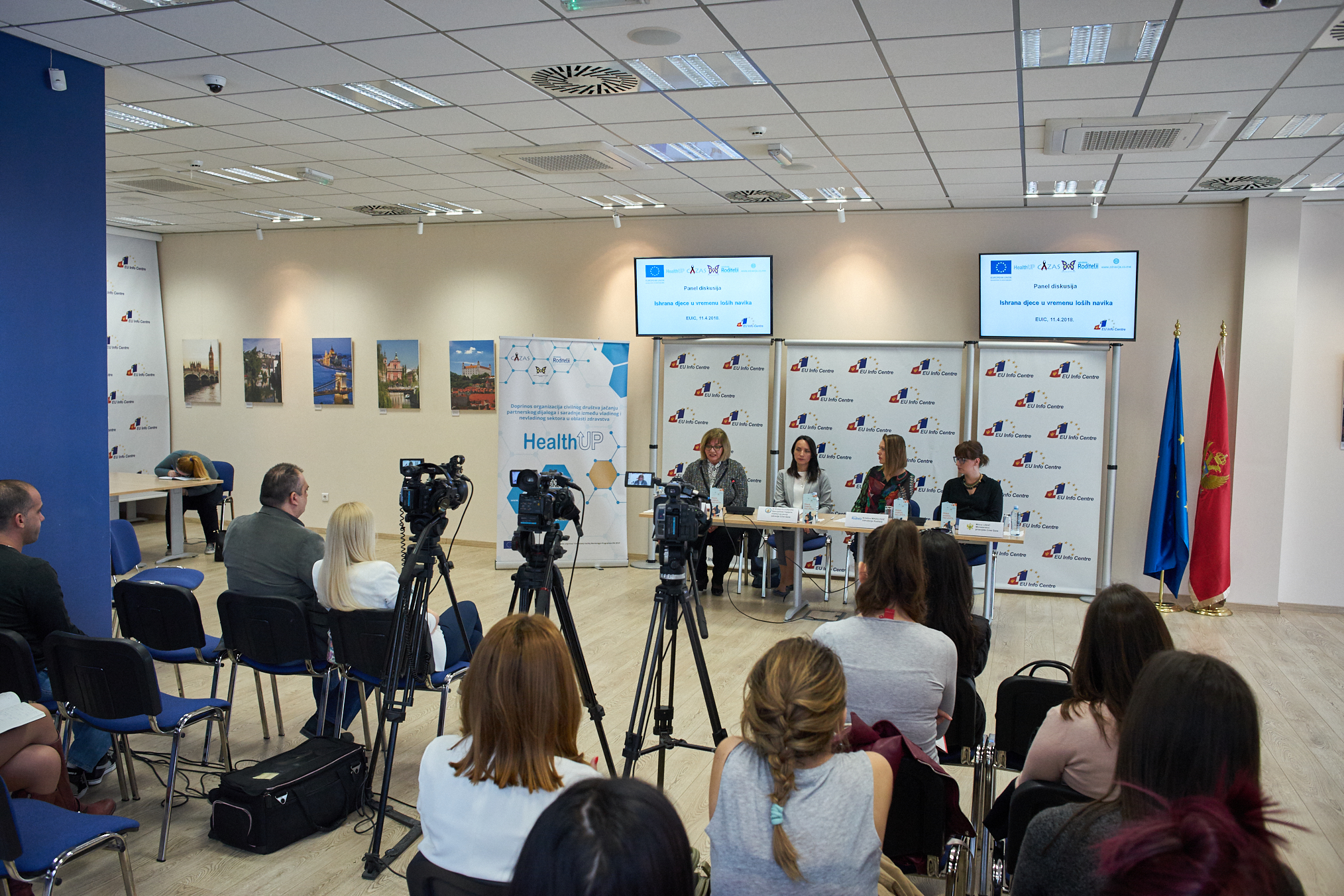 Last year, the Institute of Public Health surveyed around 3,500 children aged 6 to 8 years old over the whole territory of Montenegro, which involved around 100 schools from the northern, central and southern regions.
An expert on hygiene at the Institute, Enisa Kujundzic, said that one of the questions in the questionnaire, which was related to the habits of children in terms of diet, sleep, physical activity, asked the parents who were filling it in whether they characterise their child as obese, overweight, malnourished or normal.
"Only 1 percent of parents see their child as obese, 9 percent of them as overweight and about 1 percent as malnourished. This is where the key is and the solution to the problem," she added, explaining that parents are not aware that diet is not just about meeting energy needs, and that their child is not hungry, but that there must also be a health-related aspect.
She recalled that parents are responsible for forming their children's habits in their first few years of life, as she said, and they are very lenient when it comes to nutrition, making compromises and taking the path of least resistance.
She advises them to use seasonal fruits and vegetables produced locally, preferably home-grown, and to consult with dieticians or doctors about nutrition. She believes that today we cannot influence the amount of additives and chemicals in our food, but we can choose food that has less of them.
A paediatrician at the Podgorica Health Centre, Pasa Divanovic, spoke about the results of systematic examinations of children of different ages, which show that there are more and more obese children.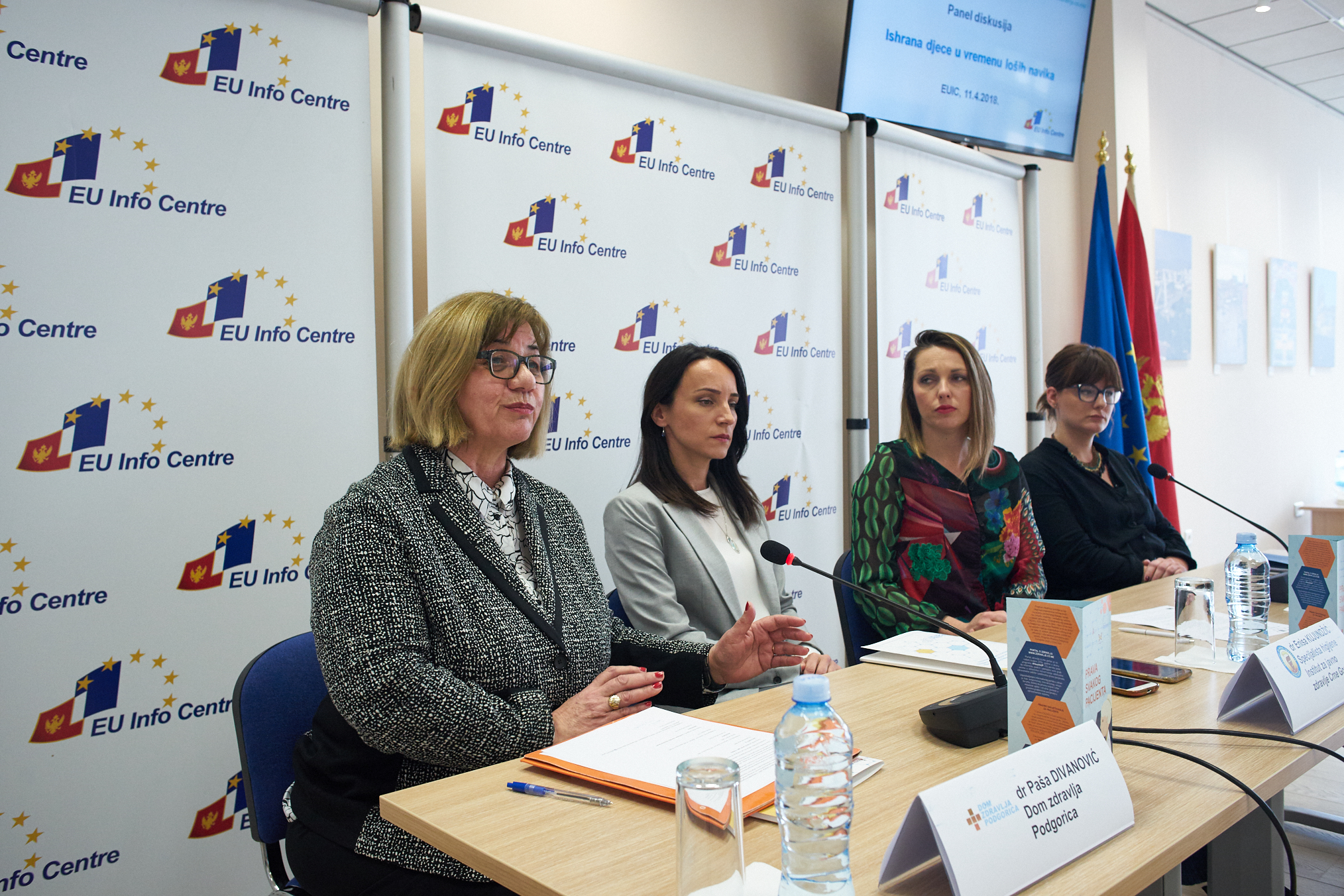 "Systematic examinations in their 4th year show that the level of malnourished children is lowest – about 1.8 percent, and the obesity rate is 20 percent. There are more obese children among preschoolers: 25.4 per cent of boys and 32.4 per cent of girls. According to the Health Centre, about 60 to 80 percent of obese schoolchildren remain obese when they become older."
Divanovic explains that, in addition to not eating food within five meals and incorrectly taking on carbohydrates, proteins, fats and vitamins, children do not do enough physical activity and sleep too much.
The fact that children are poorly fed, especially when they are at school, has also been recognised in the Ministry of Education, which, in addition to running a pilot project of pupil lunches within the territory of the capital in cooperation with Sergije Stanic Secondary School and the Institute for Public Health, has decided in the following period to additionally attempt to influence the availability of unhealthy products to the youngest.
The HealthUP project aims to strengthen partnership dialogue and cooperation between the government and the non-governmental sector in the field of health. The aim of the programme implemented for the last two years by CAZAS and the SOS Telephone Line for Women and Children Victims of Violence, Podgorica, and the Parents Association is to further strengthen and bolster civil society organisations in order to make the healthcare system more efficient and more responsive to the needs of patients. Nutrition is one of the areas of cooperation between non-governmental organisations and institutions.